Why choose Selz for your ecommerce SEO?
Investment in SEO is a long term strategy that is proven to drive sustained growth for your business.
Cost-effective sales
The average return on investment (ROI) for ecommerce SEO is $2.75 for every $1 spent. And unlike paid ads, once you rank, SEO continues to drive sales with no recurring costs.
We know ecommerce
As ecommerce experts, we know what it takes for an online store to rank well. We have a great track record of helping small businesses achieve SEO success.
Personal support
Your Selz Ecommerce Expert will provide regular, insightful reports as your search rankings improve. You remain 100% in control. If you don't see real results you can cancel your SEO service at any time.
SEO for everyone
We provide SEO services to businesses who are using the Selz platform and to businesses using any other ecommerce platform including Shopify, WooCommerce and BigCommerce. Our SEO service is currently available for English language sites only, and more languages are coming soon.
What is Ecommerce SEO?
SEO stands for Search Engine Optimization and refers to the tactics used to improve the rankings and discoverability of websites in search engines like Google.  Over 70% of online purchases begin with a search engine, so an effective ecommerce SEO strategy means optimizing your website so that it ranks at or near the top of the search results for your products and services.
How much does SEO cost with Selz?
Our SEO packages start at $250 per month. Based on our initial analysis of your site and a call to understand your needs and budget, we will recommend the best value plan for you and your business.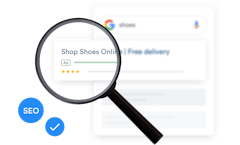 What does Ecommerce SEO include?
In our first month, we will conduct an in-depth SEO audit and then create an action plan for the subsequent months we work together.
This will include technical optimization (making it easier for search engines to find and understand your site) and content optimization (ensuring your content conforms to SEO best practice and contains the right keywords for your products).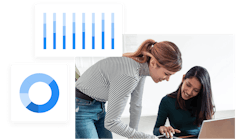 Top 10 Tips for Ecommerce SEO
Search engine optimization is essential to getting your ecommerce business in front of as many customers as possible. This guide will help you understand and utilize many of the techniques needed to get your SEO efforts running smoothly.
What is SEO?
SEO stands for Search Engine Optimization. When your website has good SEO, that means it has been optimized for search engines and that it ranks highly when users search for terms that are relevant to your business.
Most people use online search engines and voice search to discover what they're looking for on the web. If your site is optimized for those terms, customers and visitors will come to your website, read your content and discover what you have to offer.
An effective ecommerce SEO strategy means building websites that can make the most out of organic, inbound traffic. SEO is best when it's applied to customers who are searching for solutions that your product offers, in other words, highly relevant content.
We'll walk you through the basics of SEO, as well as giving you some tips and tricks that will help move your online business up the search rankings
1. Keyword Research
As with all things, finding the right words is key. In this case, the right keywords. Every SEO journey begins with solid research. You'll need to discover what your customers are searching for or the similar products that they're looking for when they're looking for yours.
Think of keyword research as building your own personal lexicon of terms that are relevant to your product. You'll use these terms over and over again, and find ways to make them sound natural when you're integrating them into the copy on your website. Luckily, there are a bunch of tools that you can use to discover keywords, and we'll give you quite a few of them here.
But before you start using the tools, take a quick inventory of the individual pages on your website. You're going to need to map keywords to each of them for maximum success.
Start with Google
The most basic and barebones approach involves going to the Google search console and searching for your keywords.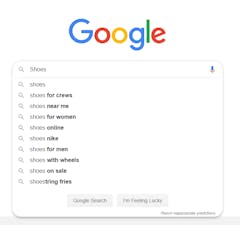 This will give you a basic understanding of the types of things that people are looking for when they search online, and that might give you some ideas as you work with the more advanced tools we'll be describing in a moment.
2. Try Answer The Public for Ecommerce SEO
After you've covered the basics with Google and Amazon searches, try AnswerThePublic next. It's a simplified version of other keyword tools that gives you a visual display of keyword information along with a more detailed data display. It's a great tool when you're trying to find SEO keywords.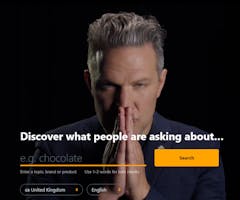 You can see prepositions to add to your keywords and common questions surrounding the word. You can also export to a .CSV for easier reference later.
3. Moz Keyword Explorer for Ecommerce SEO
Moz's Keyword Explorer tool is an excellent way to cross-reference keywords as well as finding more detailed information about each term. It's free, though you need to register an email address to use it.

4. Amazon Suggest for Ecommerce SEO
Do the same thing you did with Google on Amazon. As the world's largest ecommerce marketplace, it can give you an idea of the products that people are looking for. It's also your primary competitor, so knowing the landscape is essential to creating a solid ecommerce business.
Visit Amazon on a desktop browser, and enter a keyword that describes one of your products. Add these to your list of possible keywords as you continue to collate info for ecommerce SEO.
5. Ahrefs keyword explorer
Ahrefs is a paid option, but one of the better ones for doing deep dives into keywords and keyword exploration. There are few better options for gaining insight into the SEO value of your website, and the platform comes with plenty of other tools as well.
6. Choose Your Ecommerce SEO Keywords
Once you have keywords that have relevance to individual pages within your site hierarchy, you can start to decide which ones are the best to focus on. You've probably got a pretty big list at this point. How do you narrow it down?
Start with these factors:
Search volume: The more people searching this term, the more potential traffic your site will see. This is where the use of tools like Ahrefs come in handy because you can see the volume of searches. Free tools like Google Keyword Planner can help too. However, high volume keywords often come with competition.
Competition: The lower the competition is, the more likely you're going to rank for the keyword. With your keyword tool, you should be able to get "keyword difficulty" or KD, you'll likely get an idea. Depending on the size of your business, you might not be able to compete for more competitive keywords as you'll get edged out by businesses with higher budgets or more backlinks.
Page Authority or Domain Authority: These statistics give you insight into the difficulty of ranking higher with organic results. A page with a high domain authority is going to be difficult to unseat in the SERPs (search engine result pages).
Relevancy: Ask yourself—how relevant are your products and pages to the search terms. Google is getting smarter every day, and trying to fool the algorithm isn't going to get you very far.
Intent: Make sure that you're picking keywords that show some intent to make a purchase. How to questions are not necessarily big drivers to a sale, but keywords that demonstrate an intent to purchase are good phrases to go after.
7. Creating Effective Content for Ecommerce SEO
Now, once you've assembled a list of keywords, the true challenge begins: creating compelling and effective content for your visitors. Above all else, compelling content that guides your customers to a sale is key to them making a purchase. Every single piece of content on your website should be a part of the customer journey, funnelling users from discovery to purchase.
Whether it's a live stream, a blog post, ebooks, white papers, or other visual content, it has to be a part of an overall SEO strategy designed to create a sale. Examine your keyword lists, and determine what you can create content around.
Let's say you're selling purses, handbags, and backpacks. Here are some keywords you might have found.
Backpacks for hiking
Backpacks for school
Zip backpacks
Magnetic strap backpacks
From that range of keywords, you can create content ideas that you can write about on your website's blog. A good blog will drive traffic to your store because it will engage users from the SERPs who are looking for more information on their path to a sale. Here are a few examples of titles you could make from the list above:
What to look for in a zip backpacks
School's starting: the best backpacks for the new year
Choosing the right hiking pack
When you build up a library of content that Google recognizes as relevant and shareable, you'll start to rank in the search results. That's exactly where you want to be. Don't forget to make your posts high quality and easy to read: if it isn't, it will rank lower.
Here's another important ecommerce SEO tip: you're not just going to be making blogs. As part of your marketing strategy you'll be building videos, live streams, podcasts, social media posts, and more. When you make substantial content like a video, make sure to embed it in your blog too, with some keyword optimized copy alongside it. If you create an eBook, divide it up into chapters and create teasers for each chapter on your blog.
Finally, you want to make sure that your keywords appear in the right places, including:
Title
Subheading and H1 text
Paragraph copy
Image file names
Image alt tags
Meta title and description
URL slugs
Product descriptions
8. Link Building
Link building is another critical component of an SEO strategy. Creating internal links (links that travel to other pages within your site hierarchy) and external links (links that take users elsewhere) drive traffic and build the overall SEO of your website and its pages. It shows Google's search algorithms that your content exists within a valuable series of contexts.
Don't overdo it (link stuffing) because Google might filter out your page. Try to insert links that are logical to the piece of content like the links we added above for keyword tools.
Internal linking creates anchor text that shows Google that you've thought about your website and how it connects and links to itself. At the same time, external links show the algorithm that you've thought about your business in connection to other businesses and other content.
Both of these practices together will form an unbreakable chain of SEO success.
9. Customer Reviews
One of the final and most important (and frankly, difficult) components of an SEO strategy is gathering customer feedback and reviews. They're not only an essential part of growing and adjusting your business for your existing customers, they're also a crucial component of your ecommerce SEO efforts.
How do they help? Well, as far as Google is concerned, reviews are fresh new content for your site and help regularly boost your site rankings. Using tools that help you collect and display reviews from websites like Trustpilot can be a big part of jumping your page up in the rankings.
Soliciting feedback and reviews from customers after they make a purchase can be huge in getting a regular supply of feedback. Just don't forget to pay attention to negative reviews and follow-up on them.
10. Managing and optimizing your ecommerce SEO
If all of this sounds like a lot, it is! Managing SEO often requires experts and professionals in the field for it to work effectively. That's why we have our new Ecommerce SEO service that is specially designed to help your ecommerce store grow.
Our ecommerce experts will guide you through the process and let you focus on managing your business while we manage the SEO. Schedule a callback to learn more!