What is Managed Advertising?
Managed Advertising is an affordable way for your business to advertise on Google, Facebook, and Instagram - enabling you to attract new customers who want to buy your products. Your campaign will be fully managed by a digital marketing expert at Selz, who will create your ads and drive the outcomes that are best for your business.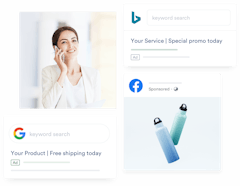 Why choose Selz for advertising?
Our business is ecommerce and we are experts at it. Everyday we process thousands of sales for merchants just like you so we know what sells. Partnering with Selz leverages our expertise and systems to get the best outcomes for your business.
We know ecommerce
As ecommerce specialists working with 1000s of merchants, we know what sells. This knowledge will help us craft the right ads and target the right audiences to deliver you maximum ROI.
Personal support
Your Selz Ecommerce Expert will provide regular, insightful reports as your ads drive sales. You will be kept up to date with progress as sales start coming in.
Fast, cost-effective sales
When pay-per-click advertising is done right, the business impact is huge. Our experts will create campaigns that drive traffic and sales right away, so you can get on with running your business.
Built for everyone
Our Managed Ads service is for anyone with a small business looking to grow online. You may already be running Google or Facebook ads that are underperforming, or it might be entirely new to you. Either way, our team of experts aims to wow you with the impact we make on your business.  Our service is currently available for English language websites only, but we'll be expanding our language options soon.
What features do I receive with Managed Advertising?
You will have access to an ecommerce expert who will manage your campaigns and provide regular reporting on how things are going.  We take care of the day to day running and optimization of pay-per-click advertising and use our wealth of experience and expertise to maximize your sales and return on investment (ROI).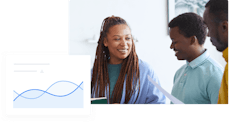 How much does it cost?
Our plans start at just $500 per month. We will recommend the best value plan for you and your business based on your objectives, your market, your products and your budget.