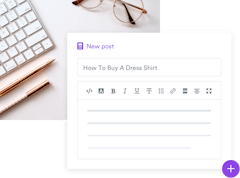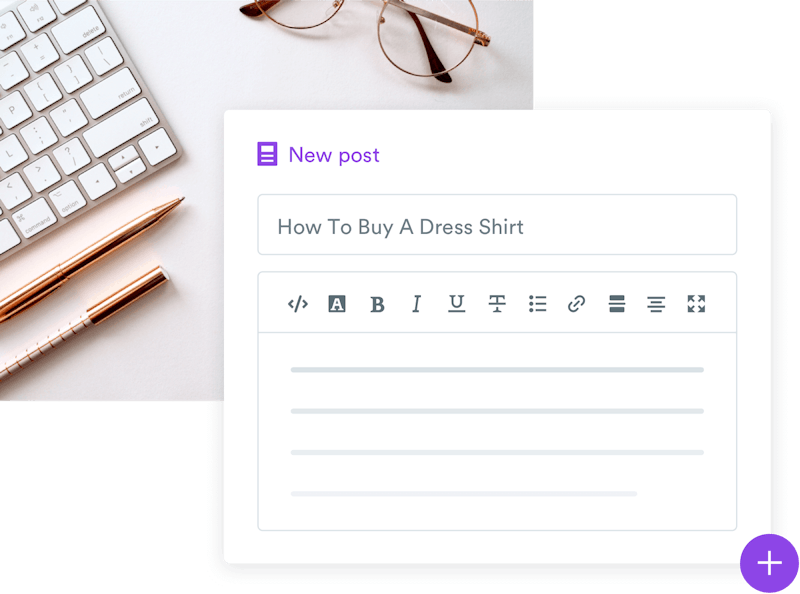 Blogging made easy
A blog that meets the needs of your brand
There's no need to set up a blog anywhere else. The Selz online store builder comes with a fully featured blogging platform that is powerful and streamlined, meaning that your content and your product listings can sit comfortably side-by-side. Engage customers, build SEO, and grow your brand into an online powerhouse, all without paying extra hosting fees or maintaining multiple sites.
Your blog, your way
Choose one of our fully-customizable, professionally-designed themes, then tailor it to your blog style and product branding. Each theme is free with your Selz subscription. Try out a couple, find your favorite, then use the online store builder to clearly, stylishly feature your products.
Ecommerce blogs drive conversions
As the saying goes: content is king. Blogs and ecommerce go hand-in-hand. Our online stores with their powerful built-in blogging capabilities are a great way to build your business and make sure you're making sales.
Hosting included
Having your blog built into your store makes it easy to maintain, with no extra hosting costs or accounts required. Selz makes it easier than ever before to run an online business and stay in touch with your customers.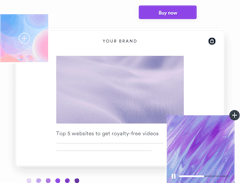 Customize your store with Selz' powerful tools
Why is a blog is so important for your online store?
A blog helps you grow personality as an online brand. It's a place you can share behind-the-scenes stories with your audience and customers. Blogging with your online store gives you the chance to connect with your audience and customers without openly selling.
Join more than 100,000 entrepreneurs who use Selz
Blogs are an important part of your online store. They can be a showcase for recent product and service releases. They are places to advertise promotions and discounts. Every Selz store comes with a fully integrated and SEO optimized blog. Start connecting with your customers today.
The best online store builder
Craft a beautiful, professional online store in minutes with Selz. Powerful, state-of-the-art design tools and world-class customer support make it easy to build and easier to brand your shop. Don't sweat the details -- Selz takes care of security, payment processing, and more.
Selz is the ecommerce platform for growing businesses
Create a stunning new online store, sell via social media, or turn your existing website into a powerful selling platform. Don't sacrifice power for simplicity--the Selz online store builder has all the features you need to grow your business online. Growing your empire. No design or programming skills necessary.
No limits
Unlimited storage, bandwidth, & customers. As you grow, Selz grows with you, with no hidden fees. It's free to start, and you'll be amazed by what you can do. Don't be limited by your ecommerce platform. Build a stable foundation with the flexibility you'll need over time.
All the stats you need
Real-time sales analytics let you see where your customers come from and how they found your online store. Knowing how many of your customers are finding you through organic search, social media promotion, or through other sites is essential to your growth strategy. It puts you in a position to invest in what's driving your business, and shift your strategy for underperforming areas.