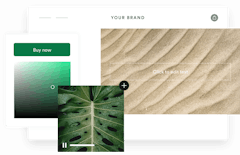 Custom name, custom domain
Custom domain names made easy
Register a new domain name through Selz or bring your existing domain name along with you. Our automated set-up streamlines the process so you can have a quick transition to Selz.
Promote your brand
A custom domain name promotes your online brand and makes it easy for your customers to find you. Select from a wide variety of options to maximize brand recognition.
Rank higher in the SRPs
Your domain name is one of the most important factors when you're trying to rank in search engine results pages (SRPs). Combine it with Selz's built-in SEO optimization to attract more customers from search.
Free SSL certificate
Every Selz store comes with a free SSL certificate, not just for the checkout. Our platform ensures that your online storefront is both powerful and secure.
Domain names simplified
Your domain name is your business' online address. Our automated set-up makes choosing your domain name easy. Add your own domain or customize your unique selz.com address. Keep your business working with powerful, simple tools.

The customization options you need
A blog that matches your brand
A custom domain needs a custom blog. Selz' powerful themes and store builder allow for advanced blog functionality, so you can keep your customers informed about the latest developments with your products.
The most powerful online store builder
Selz' online store builder is powerful and easy-to-use, featuring drag and drop functionality so you can make your store designs work for your customers. When they come to your custom domain, they'll see products the way you intended.
Integrations
Along with your custom domain, your Selz store comes fully integrated with Facebook for Business, Google Shopping, and more. Make sure that your store is as flexible and powerful as you need it to be.
Themes for every business
Choose from hundreds of customizable themes that match your business' style and tone. Help your products put their best foot forward with powerful tools.